The PUP Alumni Association USA (PUPAA-USA) made history during the spectacular 3-day Memorial Weekend Reunion held at The Orleans Hotel in Las Vegas. It was attended by nearly 300 alumni coming from different parts of the world: Philippines, Saudi Arabia, Canada and the United States (California, Colorado, Florida, New York, New Jersey, Nevada, Georgia, Chicago, etc.)
President of Polytechnic University of the Philippines (PUP) Dr. Emanuel de Guzman, who came from the Philippines with his wife May de Guzman, honored the event with his presence. With Dr. Guzman were members of the Board of Regents, members of the Federation (FEDAAPI), faculty and university staff, most of whom acquired their US visas by way of the Invitation Letter issued by Dr. Oscar Jornacion, Chairman of the Board of PUPAA-USA and the leadership of the Overall Chairman of the Philippine Delegation, Dr. Joseph Mercado. FEDAAPI president, Engr. Rene A. Tanasas and his board members also played a big role in visa processing, disseminating of information about the global reunion and providing assistance to all the attendees with their travel plans.
The fun started during the Friday Meet & Greet where alumni had a brief chance to introduce themselves and get to know each other. Many honor students from high school, many college alumni who graduated as cum laudes and magna cum laudes, and graduates holding MBAs and PhDs were among those who attended the first global reunion. Their presence and their eagerness to be part of the alumni event was enough proof that PUP/ PCC produced many notable professionals and successful alumni.
The Saturday Formal Gala Night proved even more exciting to the attendees. Dressed in formal attire, alumni representing different countries and different states in the US, paraded around the dance floor and on stage. The Philippine team headed by the university president, Dr. Emanuel De Guzman and FEDAAPI president, Engr. Rene Tanasas. Southern California is represented by the most number of alumni. The event triggered happy memories and provided glimpses of years of fun and camaraderie during the attendees' high school and college days in PUP/PCC.
Highlights of the first global reunion include the induction of PUPAA-USA Officers & Board of Directors. The PUP president, Dr. Emanuel De Guzman, inducted the following committed and hard work- ing members of the PUPAA-USA dream team: Dr. Oscar Jornacion, chairman of the board; Ms. Loi Herrera, president; Monette Santillan-Rivera, executive vice-president; Honeylette Monteverde-De Leon, VP-job placement; Violeta DeLa Cruz-Cristobal, VP-finance; Thelma Magabo-Brillantes, VP-membership; Rudolfo Valentino B. Brillantes, VP-ways & means; Rosemarie Belle Trinidad Mejia, VP-PRO; Connie Arellano-Acosta, assistant PRO; Jose "Jun" Mapoy Jr., treasurer; Dr. Gerry Fernando, accountant; Marissa Sugay-Palanca, recording secretary; Sandra Estrellado-Dollano, corresponding secretary; Rose Ilagan-Maghari, auditor; Dr. Henry Divina, advisor; Ricardo Colindres II, website designer. Other members of the core group who made substantial contribution to the success of the reunion were Mercy Murphy, Aimee Sarmiento and Linda Cruz Santos.
PUPAA-USA also launched a search for Outstanding Alumni 2016. Of the numerous nominations received, reviewed, screened and interviewed by the Awards Committee in the USA and in the Philippines, 12 successful professionals were selected and awarded. With so many successful alumni whose achievements and contributions need to be recognized and honored, it was decided that the Outstanding Alumni Award will be given to awardees every global reunion. This year's Outstanding Alumni Awardees of PUPAA-USA were: Dr. Henry Divina (USA), Rosemarie Belle Mejia (USA), Vee DeLa Cruz-Cristobal (USA), Honeylette Monteverde-De Leon (USA), Monette Santillan-Rivera (USA), Loi Herrera (USA), Amihan Aguirre Evidente (USA), Elizabeth Cruz Velasco (USA), Mario Alban Santos (USA), Luz Beng Panado (USA), Jinky Mercado (Philippines), and Dr. Emelyn Quintos-Libunao (Philippines).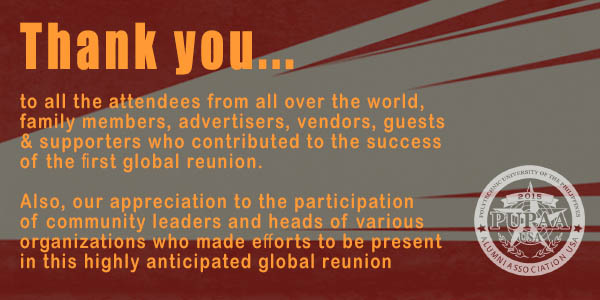 While the aim of the reunion is to reconnect with colleagues from high school and college days, the event was also meant to raise fund for the building of "Bahay Atleta ng PUP", the first project of PUPAA-USA. The cost of the project is estimated at $150,000.00. The reunion's fundraising segment more than exceeded the goal by raising a total of $176,000 in donations and pledges, thanks to the teamwork of Dr. Oscar Jornacion, Dr. Emanuel De Guzman and Ms. Vee Cristobal who spearheaded the fundraising. There was never a successful fundraising as this that PUP has ever witnessed or experienced in the history of the institution. The success of the event was credited to the sponsorship of all concerned alumni, who are generous, committed, willing and eager to serve their Alma Mater and help transform the lives of the student-athletes in PUP.
Special thanks goes to the Board of Directors of PUPAA-USA headed by Dr. Oscar Jornacion, FEDAAPI Board of Directors headed by Engr. Rene Tanasas and PUP Board of Regents headed by Hon. Alex Brillantes, Ph.D for their dedicated service to our Alma Mater and for their contributions that made a huge impact in the rousing success of the First PUP/PCC Global Reunion.
USA: Virginia Vivas, past president of PWU; Jun Capistrano, president, UE Association of America; Julian Nocos, past president of Daly City Jaycees of California; Mario A. Santos, president, Silicon Valley Society of Financial Service Professionals; Lydia Eusebio/Taug Sullivan, Sacred Heart of Jesus St. Patrick Church, San Francisco; Dr. Alfredo Villao, president, Association of Oriental Mindoro; Filomena Benasfre Hernandez , president, Dasmarinas Cavite Association of Greater LA; Josephine Dacanay Dauz , president, Alcalanian Association of So. California; Leticia Romasanta, PCCHS '62 Alumni Association.
Philippines: Dr. Marion Cresencio, president of PUP College of Education Faculty; Leopoldo Perez, president of PCC High School 1963 Special acknowledgement to the following people who have given in-kind donations: Cristobal & Company for the give-away bags (c/o of Vee Cristobal); World Class Freight for the lotion gift items (c/o Honeylette De Leon); flower center pieces by Deborah Hunt and Divina Corpuz-Nguyen ('79 LHS); Rosemarie Mejia for note pads; Las Vegas maps & brochures (c/o Mercy Murphy and Ana Liza De Leon); and Balloon Decor set up by Sheryl of FAB Party Arts.
If you weren't able to get a copy of our souvenir book, please enjoy the slideshow here…
We invite you to become a member. For more information, please visit www.pupalumniusa.org