PUPAA-USA Christmas Party, a BIG SUCCESS!
T'was a very merry Christmas celebration for alumni members & guests on Sunday Dec. 18th at Double Tree by Hilton – Carson…Everyone expressed that they had fun. The President, Ms. Loi, did the Welcome Address in the absence of the PUPAA Chairman of the Board, Dr. Oscar Jornacion who was away spending Christmas in his La Union Beach Mansion. The American National Anthem was performed by Dr. Gerry Fernando and Lupang Hinirang by Cynthia Francisco followed by Invocation by Honeylette Monteverde De Leon. Lunch was served buffet style and food was good. The opening entertainment was the group singing of Imno ng PUP led by Dr. Gerry Fernando, followed by a performance by the Charism Quartet composed of Cynthia Francisco (alumna), Arcie Herrera (alumna), Lito Jeremillo (guest) and Jonathan Lopez (guest) with a medley of Pinoy Christmas songs followed by a solo number by Dr. Gerry Fernando's Pasko Na Sinta Ko. The appearance of copycat Motown's "The Supremes" drew much attention from the crowd performed by Loi Herrera, Cynthia Cabebe-Francisco and Dory Cabebe-Stone who were classmates since high school and again in college at PCC. There was a tie in the Ms. Best Dressed Contest, Honeylette De Leon and Mercy Murphy. We appreciate all the contestants for being a good sport. Other Best Dressed nominees were Donna Tingzon Estes, Grace F. Szpak & Olive F. Sanchez.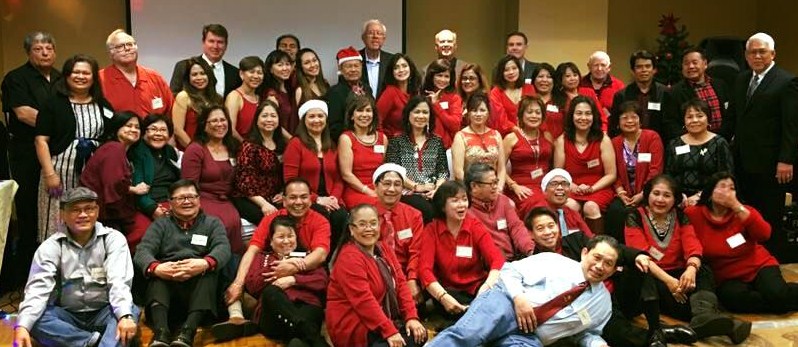 PUP Alumni USA Christmas Party 2016 at the Double Tree by Hilton-Carson attended by alumni and their guests.
Ms. Loi Herrera recognized the PUPAA's board & core group members for their physical efforts and generosity in their financial sponsorship for making the first project of PUPAA-USA, PUP Tahanan ng Atleta a reality. Those present were: VP Honeylette de Leon, VP Rosemarie Mejia, Treasurer Jun Mapoy, Accountant Dr. Gerry Fernando, Recording Secretary Mercy Murphy, Corresponding Secretary Sandra Dollano, Auditor Rose Maghari, Asst.PRO Connie Acosta, Advisor Dr. Henry Divina and core members Aimee Sarmiento and Marissa Palanca.
All the sponsors who were paid off in their pledges (present or not) from different levels; Bronze, Silver, Gold and Platinum were also recognized: Linda Brown, Jun Capistrano (present), Myrna Ynares Chunsanit, Violeta Cristobal, Honeylette De Leon (present), Dr. Henry Divina (present), Angelito Eusebio, Richard Francia, Loi Herrera (present), Landmark Shopping Center/Dr. Oscar Jornacion, Jun Mapoy (present), Medquick Pharmacy, Lourdes Mendoza, Jinky Mercado, Donnie Monteverde (present), Rolando Ong, Monette Rivera, Mario Santos, Freddie Sixon, Lydia Tabigne, Ramon Tiongco (present), Clarissa A. Uhl, and Elizabeth & Jess Velasco. The rest of the sponsors who were present were also acknowledged; Luz Beng Panado, Josephine Dacanay-Dauz, Virginia Herbito, Grace Falcutila-Szpak and Donatila Tingzon-Estes.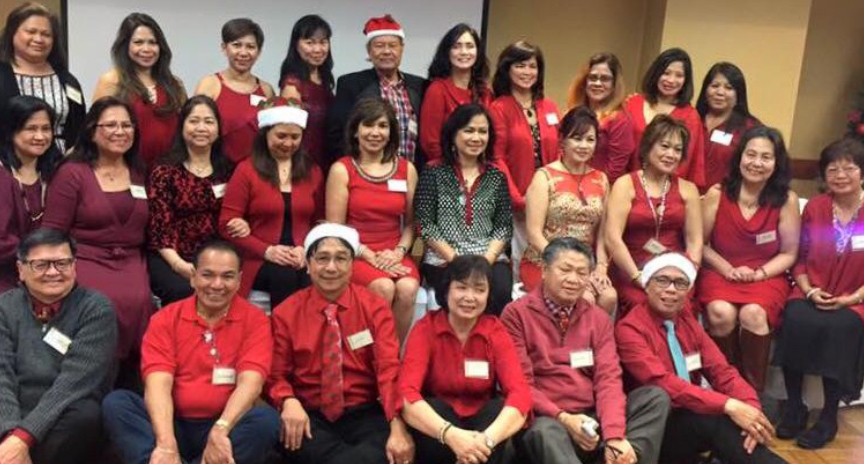 Alumni present at the PUPAA-USA 2016 Christmas Party:
First row L-R: Ed Mejia, Donnie Monteverde, Jun Mapoy, Arcie Herrera, Ramon Tiongco and Dr. Gerry Fernando. Second Row L-R: Myra Mapoy, Aimee Sarmiento, Marissa Palanca, Sandra Dollano, Honeylette Monteverde De Leon, Loi Herrera, Rosemarie Mejia, Mercy Murphy, Rose Maghari & Virgie Herbito. Third row L-R: Luz Beng Panado, Gracey Szpak, Olive Sanchez, Vangie Reyes Codilla, Dr. Heny Divina, Cynthia Cabebe-Francisco, Dory Cabebe-Stone, Bebot Holbrook, Donna Tingzon and Trinity Lyndah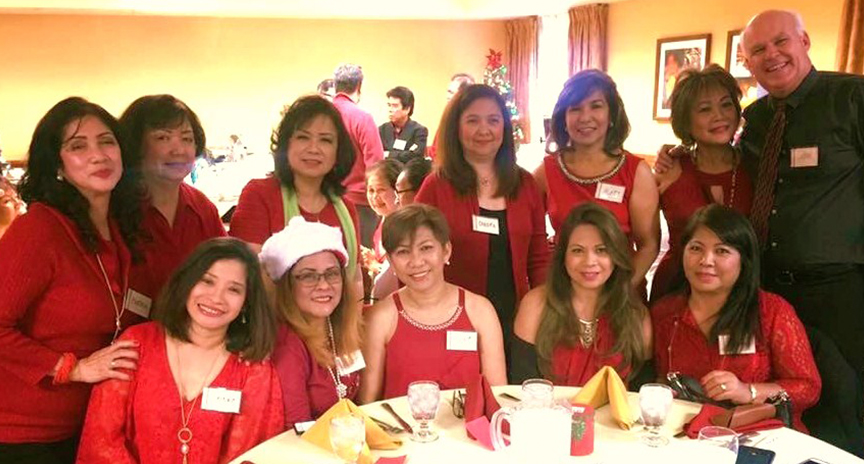 Seated: Donna Tingzon, Bebot Holbrook, Olive Sanchez, Gracey Szpak, Trinity Lyndah Standing: Cynthia Francisco, Arcie Herrera, Loi Herrera, Sandra Dollano, Honeylette de leon, Mercy & John Murphy.

Donors to PUPAA's first project: PUP Tahanan ng Atleta located at the Sta. Mesa Campus of PUP. L-R: Ms. Loi Herrera, Honeylette de Leon, Beng Panado, Virgie Herbito, Rosemarie Mejia, Jun Capistrano, Dr. Henry Divina, Donnie Monteverde, Ramon Tiongco, Jun Mapoy, Gracey Szpak & Donna Tingzon

PUP Alumni USA Board of Directors: L-R Gerry Fernando, Marissa Palanca, Aimee Sarmiento, Connie Acosta, Sandra Dollano, Loi Herrera, Honeylette de Leon, Jun Mapoy, Mercy Murphy, Rose Maghari, Dr. Henry Divina
There were raffles, games and exchange gifts. The dance floor was filled with dancers doing mostly line dancing to the music of DJ Gerald Barrios. We surely didn't miss the group photo, first with the alumni only and then with the alumni & guests. The closing remarks were done by Dr. Henry Divina. This is usually the job of our Executive Vice President Monette Santillan-Rivera, but she was also in the Philippines where she celebrated her birthday on Dec. 19th. A BIG THANK YOU to the board of directors & core group members who came & helped out and who donated raffle prizes. Thank you also to all the guests who graced the PUPAA Christmas party and those who shared photos in Facebook especially Edmar Dollano who took the most pictures. Thank you to our webmaster Ric Colindres for the Christmas party flyer and for uploading all the photos in PUPAA-USA website. We wish everyone a very Merry Christmas and a Happy New Year.
(Click photo to enlarge)
Follow us on Facebook: https://www.facebook.com/groups/PCCALUMNI/ for more photos.
Visit our website and become a member: http://pupalumniusa.org/membership/