The chance to do it all again…take a trip down to memory lane and relived those cherished memories. Reconnect with good 'ol buddies…make it an evening to remember. BE THERE!
TO REGISTER TO THE EVENT
TO ADVERTISE ON SOUVENIR BOOK
FOR BUSINESS SPONSORSHIP
HOTEL RESERVATION INFORMATION
RECONNECT…REUNITE…RELIVE…
If you'd like to join or attend the meeting,
click here
to check schedules.
Stay updated! Connect with us on…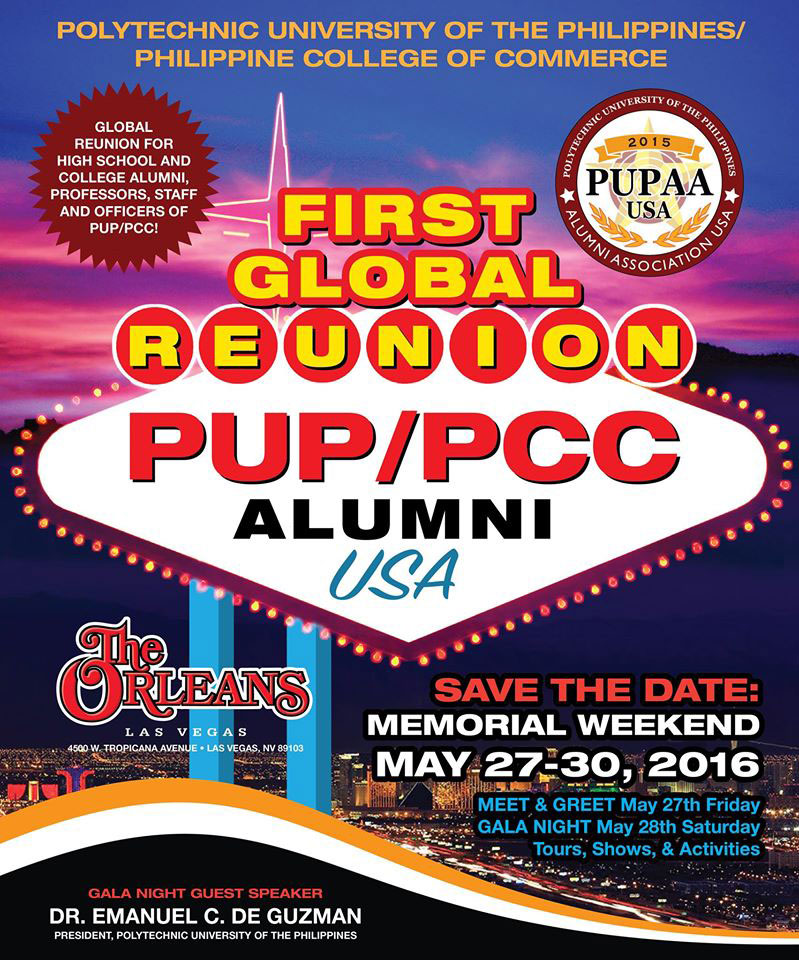 PUP/PCC 1st GLOBAL REUNION 2016 PROGRAM
DRESS CODE: Semi-Formal
| | |
| --- | --- |
| 5:00 – 6:00 pm | Alumni "Learn to Dance" (Ballroom & Line Dance) |
| 6:00 – 6:15 pm | Start of Program/National Anthems |
| 6:15 – 6:25 pm | Welcome Address – Ms. Loi Herrera – PUPAA President |
| 6:25 – 6:30 pm | Invocation |
| 6:30 – 7:00 pm | Dinner |
| 7:00 – 7:15 pm | Special Performances |
| 7:15 – 7:20 pm | Introduction of Keynote Speaker |
| 7:20 – 7:35 pm | Keynote Speaker – Engr. Rene Tanasas |
| 7:35 – 8:05 pm | Short Self Introduction of each Alumni |
| 8:05 – 8:10 pm | Introduction of Inspirational Speaker |
| 8:10 – 8:25 pm | Inspirational Speaker – Dr. Joseph Mercado |
| 8:25 – 8:35 pm | Service Awards |
| 8:35 – 8:50 pm | Presentation of Project – Bahay Atleta ng PUP |
| 8:50 – 8:55 pm | Closing Remarks |
| 8:55 – 9:00 pm | Group Photo |
| 9:00 – 11:00 pm | General Dancing |
| 11:00 pm | End of Program |
DRESS CODE: Strictly Formal
| | |
| --- | --- |
| 5:00 – 6:00 pm | Red Carpet Reception/Photos |
| 6:00 – 6:15 pm | Start of Program/National Anthems |
| 6:15 – 6:25 pm | Welcome Address – Dr. Oscar Jornacion (PUPAA Chairman of the Board) |
| 6:25 – 6:30 pm | Invocation |
| 6:30 – 7:15 pm | Dinner |
| 7:15 – 7:20 pm | Introduction of Guest Speaker – Ms. Loi Herrera |
| 7:20 – 7:35 pm | Guest Speaker – Dr. Emanuel de Guzman (PUP President) |
| 7:35 – 7:45 pm | Induction of PUPAA Officers/Group Photo |
| 7:45 – 8:00 pm | Special Performances – 1) PASCPA 2) Surprise Entertainment |
| 8:00 – 8:10 pm | General Dancing |
| 8:10 – 8:30 pm | Parade & Presentation of Alumni by Country & State |
| 8:30 – 9:00 pm | Outstanding Alumni Awards |
| 9:15 – 9:20 pm | Update on Project – Bahay Atleta ng PUP |
| 9:20 – 9:25 pm | Closing Remarks – Monette S. Rivera |
| 9:25 – 9:30 pm | Group Photo |
| 9:30 – 12:00 MN | General Dancing |
| 12:00 MN | End of Program |
DRESS CODE: PUPAA T-shirt for Group Photo
| | |
| --- | --- |
| 10:00 – 10:30 am | Group Photo at The Orleans Hotel lobby (In PUPAA T-Shirts) |
| 10:30 – 1:00 pm | Farewell Brunch |
| 1:00 – Onward | FREE TIME (on your own) |
| | Shows, Outlet Shopping, Dancing & Hotel Hopping |
| | Airport Transfer, Departures |
Should you need any help or more details, let us know. Please contact
USA CONTACT INFORMATION
Ms. Loi Herrera
Board of Director PUPAA USA
Email: loi.pupaa@gmail.com
Phone: (562) 544 8210
PHILIPPINES CONTACT INFORMATION
Dr. Joseph Mercado
Business Manager FEDAAPI
Email: merjos2002@yahoo.com
Cell No.: +63999 884 7218
Cell No.: +63927 527 6558
Ms. Maureen C. Paz
Coordinating Officer FEDAAPI
Phone: (02) 354 4841
Cell No.: +63928 550 2852